Real estate brokerage deploys newfangled Amazon device to amplify intown model home tour experience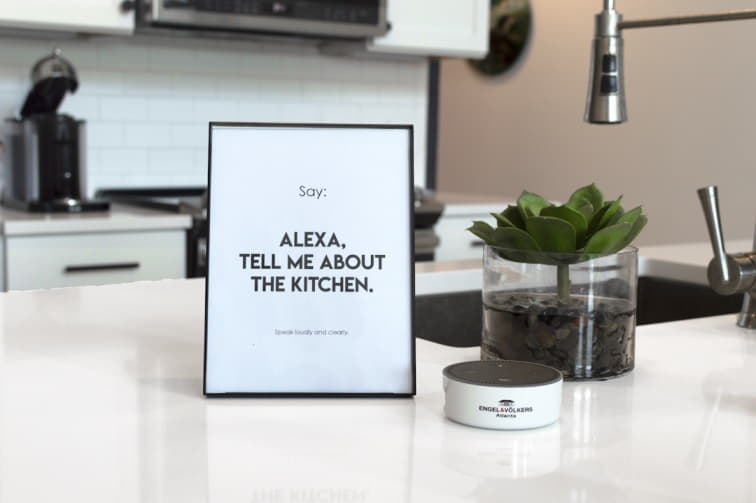 Engel & Völkers Atlanta is upping the ante on the traditional model home tour, integrating Amazon's voice-activated smart device into the model home experience at District Lofts, a condo conversion in Atlantic Station. The smart technology greets potential homeowners upon entry and delivers a fully tech-enabled circuit around the unit. Model home visitors will be able to command Alexa using only their voices, and prompts will be set up around the home to guide their orders.
"With buyers relying more on technology, we are tailoring our sales efforts to meet the changing expectations of the modern buyer. What we are employing is reflective of a greater trend towards a larger tech presence in the home," said Christa Huffstickler, Founder & CEO of Engel & Völkers Atlanta. "We aim to modify our sales approach to apply to the generations and audiences we are trying to appeal to, and the Alexa-enabled model home is representative of their new tech-focused approach to life."
As the use of virtual assistants increases, with 53 million American adults owning a smart-speaker according to a recent survey, Alexa has become a fixture in homes nationwide. It is commonplace to connect the device to typical household actions, such as locking a door or changing the temperature. The Alexa-enabled model home at District Lofts will offer buyers a glimpse into the device's comprehensive capabilities and how it can streamline simple processes. The residence at District Lofts will feature six Alexa devices, one in each room, and they are enabled to give detailed descriptions about the spaces with a few relatable jokes intermingled throughout to keep the tour lighthearted.
"Although implementing tech into the home-buying process has only recently caught on in the marketplace, buyers have been expecting this for a while," said Tyler Russell, advisor at Engel & Völkers Atlanta. "My clientele has been incredibly receptive to these new marketing tools, and the Alexa homes at District Lofts are sure to set off a trend for agents looking to revamp their sales approach for a new generation of buyers."
Engel & Völkers Atlanta has consistently been on the front end of advances in real estate tech, previously collaborating with Opendoor, an app that conveniently facilitates that process of buying and selling a home. The Alexa-enabled model home at District Lofts is the firm's inaugural smart home.
For more information on Engel & Völkers Atlanta, visit evatlanta.com.
About Engel & Völkers
Since its beginning in 1977 as a specialty boutique providing exclusive, high-end real estate services in Hamburg, Germany, Engel & Völkers has become one of the world's leading companies specializing in the sale and lease of premium residential and commercial property, yachts and private aviation. Engel & Völkers currently operates a global network of over 10,000 real estate advisors in more than 30 countries, offering both private and institutional clients a professionally tailored range of luxury services. Committed to exceptional service, Engel & Völkers supports its advisors with an array of premium quality business services; marketing programs and tools; multiple platforms for mobile, social and web; as well as access to its global network of real estate professionals, property listings and market data. Each brokerage is independently owned and operated.