Free food vouchers will be hidden around the park during Food Truck Friday on June 7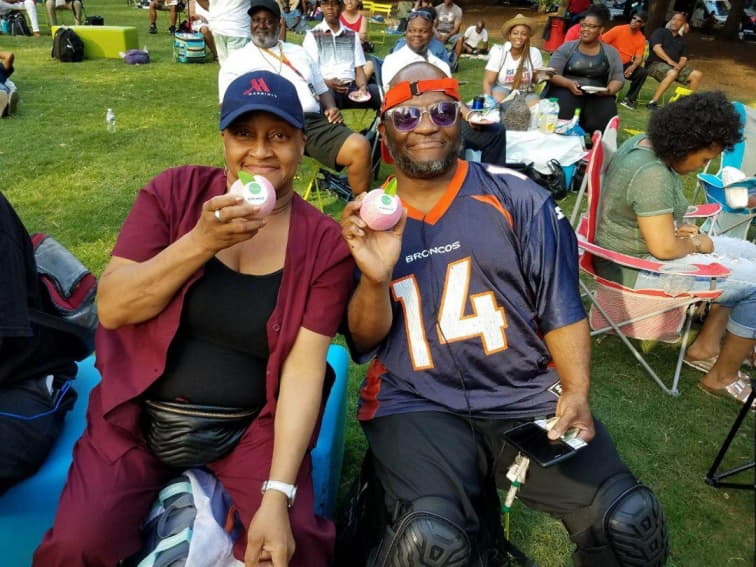 This Friday, Georgia's Own Credit Union will hide dozens of peaches (aka free food vouchers) around Woodruff Park for the community to pick and redeem at the park's first Food Truck Friday of the summer. The peaches are valued at $10 and can be used at any of the food trucks during the event.
Food Truck Fridays are held in Woodruff Park from 11 a.m. to 2 p.m. every Friday through July 26 and feature live jazz performances curated by WJZA Smooth Jazz 101.1 FM. The event is free and open to the public, with nearby workers encouraged to leave their offices and eat lunch at the café tables in the park while enjoying the live entertainment.
This initiative comes as part of an ongoing partnership with Georgia's Own and Woodruff Park that was inspired by the 2017 relocation of Georgia's Own's headquarters to 100 Peachtree in Downtown Atlanta. One of the primary benefits of this relationship has been the introduction of free Wi-Fi in the park, which is funded by Georgia's Own in conjunction with 100 Peachtree and Southwest Airlines.
The peachy food vouchers also commemorate Georgia's Own Credit Union's 85th anniversary and the organization's yearlong "85 Acts of Kindness" campaign designed to serve the public good in unique and unexpected ways. Follow #85ActsofKindess on social media for announced initiatives open to the general public, as well exclusive surprises for members of the credit union.