Construction Slated to Begin Q2 2109 on Three Additional Buildings Totaling 1.5 MSF in Business Park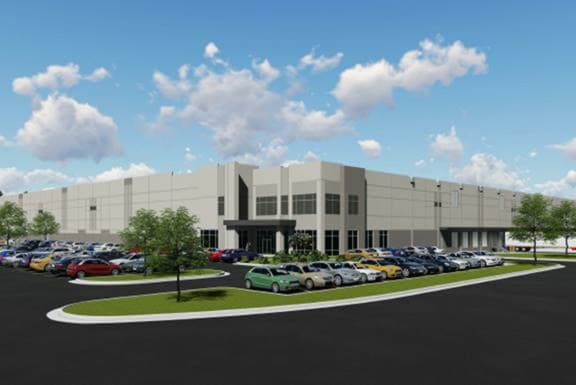 Atlanta-based Core5 Industrial Partners announced the sale of a 581,475-square-foot building located in Desoto 55 Logistic Center, a 173-acre park situated at US Highway 51 in DeSoto County along the I-55/I-69 corridor in the greater Memphis industrial market. The initial cross-dock facility, located at 1241 Commerce Drive, Horn Lake, MS, and known as Building A, was sold to a Fortune 500 company to use as a key facility in their distribution network. Elliot Embry with NAI in conjunction with NAI Global Corporate Solutions represented the undisclosed buyer.
The second existing building in the park, Building B, is a 300,145-square-foot rear-load building that has been fully leased to DSV Solutions, LLC and EPE Industries USA which will both occupy in first quarter 2019. DSV Solutions was represented in-house and EPE Industries was represented by Jacque Beeson of CBRE.
With the initial two buildings being fully committed within three months of completion, Core5 will immediately begin design and construction on the final three buildings in DeSoto 55 Logistics Center, totaling 1.5 million square feet. The largest building of the three, Building D will be a 860,915- square-foot cross-dock building and feature 36' clear height, 326 auto spaces and up to 196 trailer spaces. The two additional buildings will be a 328,355 – square foot cross-dock with 36' clear height and a 316,885 – square foot rear-load building with 32' clear height. All three buildings are anticipated to deliver in the last quarter of 2019.
At full build-out, DeSoto 55 Logistic Center will accommodate just under 2.5 MSF in five separate buildings.
DeSoto 55 Logistics Center provides an outstanding business environment in a park-like setting with proximity to the I-55 transportation corridor and a deep and qualified labor pool from which to draw potential workforce. Other key attributes that have proven successful to the property are the pro-business environments of both DeSoto County and the City of Horn Lake, MS.
"The two key factors considered by logistics operators is immediate access to transportation infrastructure and access to a qualified labor pool. DeSoto 55 Logistics Center offers unparalleled access to both," said Lisa Ward, Senior Vice President and Managing Director of Core5.
"The State of Mississippi, DeSoto County and the City of Horn Lake have created a pro-business environment that is both responsive and easy for prospective tenants seeking to do business in the area," declares Rodney Davidson, Vice President Investments for Core5.
Colliers International's Memphis team of Dan Wilkinson, Brad Kornegay and Allen Wilkinson will continue to handle marketing and leasing for DeSoto 55 Logistics Center on behalf of Core5.
About Core5 Industrial Partners
Core5 Industrial Partners is an industrial real estate property company with expertise in development and acquisition of Class-A industrial properties featuring the latest innovations throughout the United States. Headquartered in Atlanta, Georgia, Core5, has development activity in Atlanta, Chicago, Cincinnati/Northern Kentucky, Dallas, Los Angeles/Inland Empire, Memphis, Pennsylvania and South Florida with expansion plans to additional key logistic hubs in the US. Founded in 2015, the company has developed 10 million square feet in three years and has plans to begin development on another 10 million square feet in 2019.
Immediate access to capital, coupled with the ability to financially support deals on their balance sheet without utilizing third party resources on most transactions, Core5 executes quickly without layers of bureaucratic, time-consuming processes. The company is privately held by 170-year-old Japanese-based Kajima Corp – one of the world's largest A credit-rated construction companies with whom C5 leadership has sustained a 30+ year working relationship.
Named for its five core principles, the company values are centered around a highly flexible entrepreneurial spirit promising follow through on commitments with an emphasis on relationships, excellence in quality, attention to detail and quick decision making.
For more information on Core5 Industrial Partners, visit www.c5ip.com.