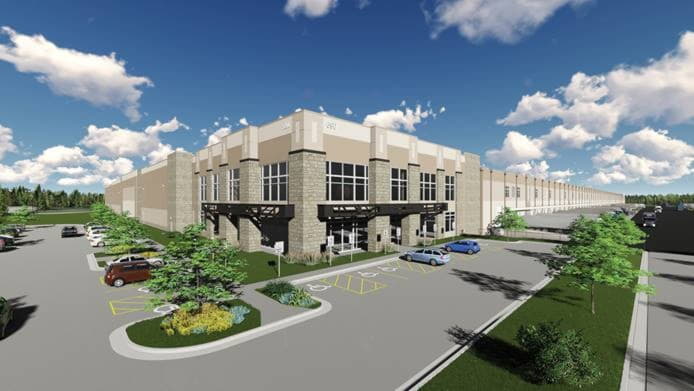 Atlanta-based Core5 Industrial Partners announced today a full-building lease in their Southwest 85 Logistics Center location to Saddle Creek Logistics Services, a provider of supply chain solutions for retailers, manufacturers, and ecommerce companies. Saddle Creek will provide distribution services on behalf of a leading home improvement retailer for their locations across the Southeast. The 1,208,301 million-square-foot building will deliver this summer. Southwest 85 is located on a 109-acre site at Exit 51 in the I-85/Southwest Atlanta submarket.
The 1.2 million-square-foot building lease is the largest industrial lease signed to date in the Atlanta region. Saddle Creek was represented by Ladson Montgomery of Newmark Grubb Phoenix Realty Group and Dave Watson of Newmark Grubb Knight Frank.
"Located less than two minutes from Exit 51 on I-85, the property provides outstanding access and interstate frontage visibility coupled with easy proximity to Metro Atlanta's population base," states Lisa Ward, Senior Vice President and Managing Director for Core5. "We have found the responsive, pro-business environment of Coweta County coupled with the strong, targeted labor pool offered in the surrounding area to be a tremendous advantage for Core5 and ultimately our customer, Saddle Creek."
The configuration of the Southwest 85 building features 40-foot clear ceiling height and will accommodate trailer parking for over 590 trailers with well over 200 auto parking spaces."The site is perfectly situated for Saddle Creek to efficiently service their client's southeast network," added Rodney Davidson, Vice President Investments for Core5.
"Core5's nimble ability to deliver the building quickly in turn allows us to ramp up quickly for our client," offers Robert Pericht, Senior Vice President for Saddle Creek Logistics Services. "Our client's direct-to-consumer deliveries, coupled with transfers to retail stores throughout Atlanta and the Southeast, will significantly benefit from the interstate ease of access to the site."
About Core5 Industrial Partners
Core5 Industrial Partners is an industrial real estate property company with expertise in development and acquisition of Class-A industrial properties throughout the United States. Headquartered in Atlanta, Georgia and named for its five core business principles, Core5 was capitalized in 2015 by Kajima USA Group following the sale of their $2 billion-dollar portfolio. With current development activity totaling over 4.9 million square feet in Atlanta, Chicago, Cincinnati, Dallas, Los Angeles/Inland Empire, Memphis, Pennsylvania and South Florida, Core5 has developed over 10 million square feet since its inception in just under three years. Expansion plans include additional key logistic hubs throughout the US. For more information on Core5 Industrial Partners, visit www.c5ip.com.
About Saddle Creek Logistics Services
Saddle Creek is an omnichannel supply chain solutions company providing a variety of integrated logistics services, including warehousing, fulfillment and transportation. Our custom solutions leverage advanced operational methods and sophisticated technologies to help retailers, manufacturers and ecommerce companies get products where they need to be quickly, cost-effectively and seamlessly. For more information, visit www.sclogistics.com.